Most people (and businesses) don't think much about their welcome email. They see it as just confirmation to the recipient that the signup process has been completed.
I've seen many people even send the default confirmation email provided by the ESP.
Who can blame them, right? After all, the welcome email is just a transaction. It's just to say… welcome.
WRONG.
And here is why the welcome email is the most underestimated piece of content in your business.
Potential
The welcome email has the potential no other email has.
According to a study conducted by EasySMTP, the welcome email represents:
86% higher unique open rates than any other email campaign
196% higher unique clicks
Remember this graph from an earlier lesson in the module? The difference between email #1 (the welcome email) and email #2 is about 4,000 people.
This is one of the only emails you will see is opened by the majority of your subscribers. For SocialMouths, the open rate for the welcome email is currently 76% and then it immediately drops to 52%.
This means 2 things:
1) Expectation
If there is one thing for sure in email marketing is that once a person has subscribed to a list, a welcome email will be received.
People know this and they expect it.
2) They're open
They are open to receiving and opening this email. They also know there are probably a couple of things to do, since they are starting something.
In other words, people are expecting your email with their bunny ears. What are you going to say?
"Welcome to my list"? That's it?
What to do with the welcome email
There are actually a few things you can do with your welcome email, besides welcoming your subscribers.
1) Get whitelisted
As we covered in an earlier lesson on the course, getting your subscribers to whitelist your address is one of the most important things you can do for the health of your list and your delivery rate.
2) Ask a question
Ask an open question to get them engaged, this helps you:
Get qualitative data to get to know them better
Getting people to reply on your campaign can open the door wide to the inbox and reduce the chances of landing on the spam folder
Get people used to taking action on your campaigns early on
3) Set expectations
We also talked about how setting expectations can help you increase open rates.
Tell them what's coming, when and how. This is the honeymoon period and your subscribers are listening.
Examples
Let's look at some good examples of welcome emails.
1) Enchanting Marketing
Henneke Duistermaat puts a lot of weight into setting expectations right from the beginning, not just about frequency and stuff like that, but about what you're going to get and when.
2) Social Triggers
Derek Halpern asks you to take a quick survey or simply reply to the email.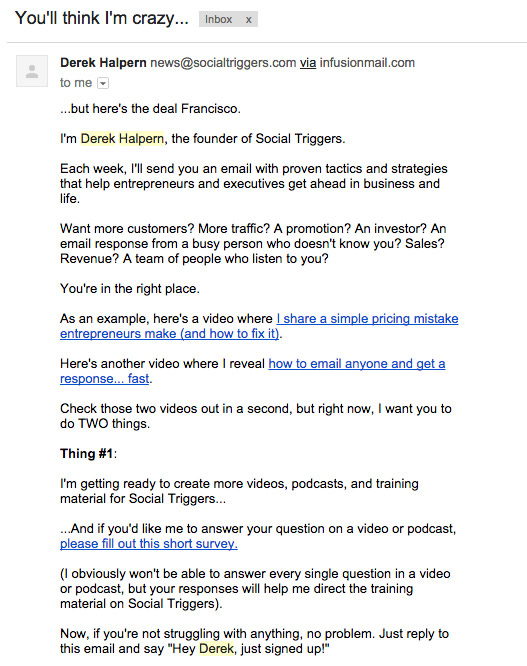 3) Trello
Trello has a call to action that focuses on getting the user to start using the services.
Multiple goals?
But, why are some marketers out there sending welcome emails with multiple calls to action? Didn't we mention the "One Goal Rule" was very important before?
Yes, but the welcome email is a whole different story. As you can see in the results above, the engagement in this type of emails is huge. If there is a time to ask your subscribers to do something, it's now.
Let's look at some examples of welcome emails with multiple goals:
Design for Hackers
David Kadavi does 7 things:
Freebie delivery
Social proof (He used to design for oDesk, UserVoice and PBworks)
Engagement: Asks people to reply
Social proof: He includes his TED Talk
Sets expectations
Asks people to share a tweet
He even goes for a soft pitch of his premium product
Digital Marketer
Here is something similar from Ryan Deiss:
Sets expectations
Links to a page on his website
Asks subscribers to whitelist him and provides instructions
Asks for a social connection
Sets expectations (2)
Canva
And if you think only marketers do this kind of stuff, here is one from Canva:
Delivers the freebie
Asks people for a reply (Struggle question)
Asks for a social connection
Homework
First things first…
Go and take a look at your current welcome email. Reeeally look at it and see if you're wasting its potential
Look at the analytics. What's the open and click rates?
Now it's time to put this thing to work for you:
Set a goal (or 2 or 3): Get whitelisted, deliver my ebook and get a reply
Write it
Publish it
Compare the results with your old welcome email