The world of Autoresponders has quite a bit of things to learn, but let's start from the beginning in the same style with did with Segmentation.
If you've never done autoresponders, great, if you have, I still think this will be very beneficial and I will hopefully improve the results you're seeing today.
Ready? Let's do this thing then!
What exactly are Autoresponders?
Autoresponders are email campaigns that are sent to your subscribers automatically. This is what we know as "automation" because these emails are triggered by an action.
The welcome email is an autoresponder, probably the most popular of them all, but in this case we are going to refer mostly to the art of creating an "Autoresponder Sequence."
Aaaaand… What is an "Autoresponder Sequence"?
An "Autoresponder Sequence" is nothing but a series of automated emails that are delivered in a sequential order.
What activates the first email is usually the signup, from there a series of emails are triggered based on the delivery of the previous one.
In the lessons ahead, we'll talk about things like triggers, length, frequency, action-based segmentation… okay, okay, my head's already spinning. Let's get back to the basics!
The difference between an Follow up and a Broadcast
The most question when a person is getting started with autoresponders is: What's the difference between "Broadcasts" and "Follow Ups"?
It's simple, there are 2 types of Broadcast emails:
Broadcast
It's the regular campaign you plan to send this afternoon promoting your new line of hats, or announcing an event. It's a standalone campaign you create and send whenever you want.
Blog Broadcast
This is when you connect your blog to your ESP via RSS. An email campaign is automatically sent to your list every time you publish a new blog post.
And the you have the "Follow up"
A follow up is each one of the emails that are part of an autoresponder series.
Fancy pants terminology…
Not that we need to worry about this kind of stuff, but just that we're all on the same page, since ESPs decided to get creative and name their autoresponders anything other than "autoresponders."
Aweber calls it "Follow Up Series"
Mailchimp calls it "Automation"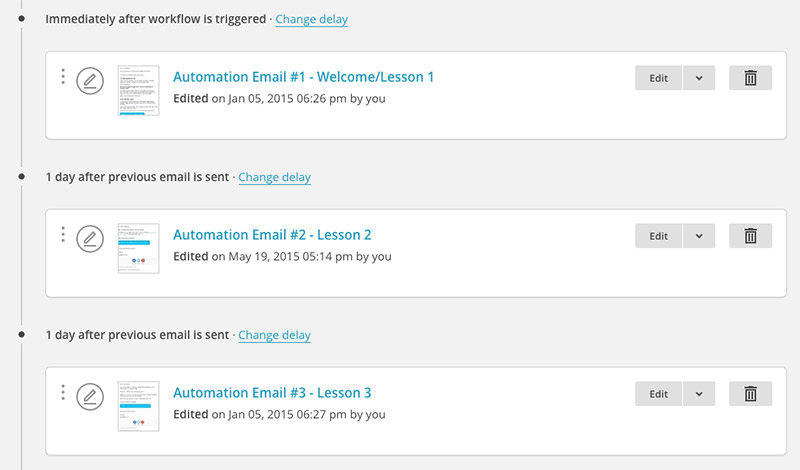 GetResponse calls it "Autoresponders 2.0" and Emma calls it "Workflows."
Not to worry. It's all the same. What's more important is to understand what each ESP allows you to do with them.
What's the goal of Autoresponders?
Autoresponder sequences can have many goals, it really depends on your business:
Build relationships
Build trust
Build credibility
Build momentum
Onboard users
Increase sales and revenue
But the point of the whole automation concept is to move people from point A to point B in your sales funnel.
When are they used?
Autoresponder sequences are used in different ways, sometimes they are obvious and sometimes they are so subtle you don't even realize you're inside one.
Taking in consideration the goals above, sequences are mostly used in these scenarios:
Welcome series
Product launch
Email courses
Lead nurturing
SaaS user onboarding
In this example, Buffer uses an email sequence to deliver a 7-day course.
Recap
Okay, we know what an autoresponder is, what a sequence is, the goals and how they are commonly used. In the next lesson, we are going to get started with how an autoresponder sequence is planned.