Autoresponders are not only for welcome or onboarding series, in fact, you probably receive autoresponders in your inbox almost every day for different reasons.
There was an autoresponder being triggered every time a person purchases a product, hit a specific page on your site or clicks on a link in a specific email campaign.
Yes, this means that you can automate your entire marketing based on how your subscribers and customers behave.
When are autoresponders used?
Let's list some scenarios where autoresponders are used…
Dates
Joins a list
Birthday
Anniversary
Ecommerce
This is done in combination with your ecommerce platform integrated with your ESP
Purchase
# of purchases
Amount spent
Abandoned shopping cart
Website activity
Done through a piece of code installed on your site. Mailchimp has a feature called "Goal" for this.
Specific URL
Javascript events
Campaign activity
Behavior inside your email campaigns.
Opened a specific email
Click on a specific link
Examples
Let's look at some examples of automated messages hitting your inbox:
Date
Twitter uses the date you joined to celebrate your "Twitterversary."
Related product
Crate & Barrel takes the opportunity of the "Thank you" email to put some related products in front of you.
Event
SumAll wishes you happy new year.
Momentum
Canva recently ran a series of email to build momentum for their upcoming business accounts.
Cart abandonment
Top Shop sends a reminder because you left some products in the shopping cart and didn't complete the transaction. They offer support and show you the product you "almost" purchased.
I'm guessing that the next email will offer a discount for you to come back and complete the purchase.
Re-engagement
We talked about re-engagement before, it can also be automated by a period of time since your last purchase (or engagement).
Campaign activity
I showed you this email before, it's from Programming for Marketers and it's triggered by the completion of a sequence.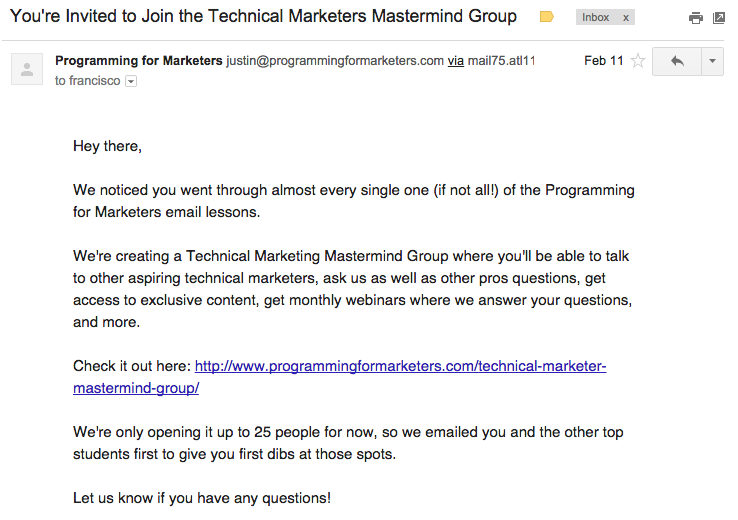 Sign up
Signups can trigger a wide variety of campaigns, here is one from Slack after you activate your account letting you know that you should invite your team members.
Free trial
Here are a series of emails from Coschedule being triggered by a signup for a free trial:
1) Activation
First, they're letting me know that I need to connect my blog.
2) Free trial is about to expire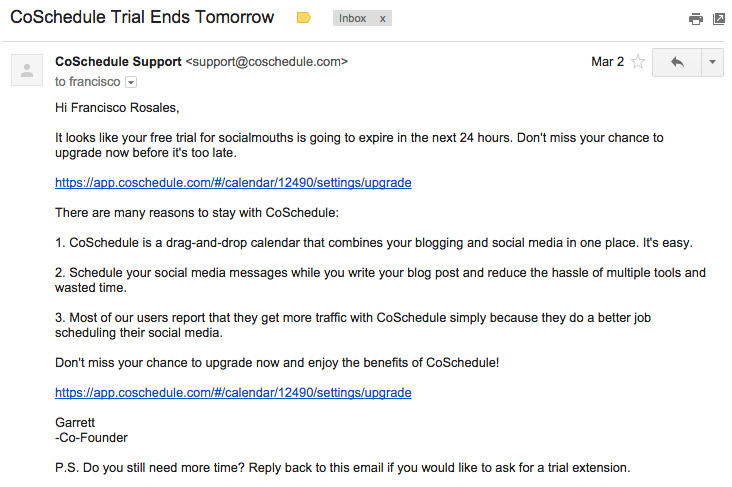 3) It's expired
4) It expired last week. They also ask for feedback to learn more about the reasons a person doesn't convert.
Once the free trial sequence ends, they don't insist but continue to provide value.
Email course
Buffer sends out a 7-day email course.
1) Lessons
A lesson is trigger on a daily basis for 7 days.
2) Survey
They send a quick survey in the middle of the sequence.
3) Thank you
The thank you invites you to answer a question by simply replying.
Homework
Look at your business (not your email strategy) and try to identify all the opportunities where you would have an automated email go out to your subscriber.
What type of email
How is it going to be triggered? Is it based on a signup, a transaction
Decide the tools you need (If it's based on signup you only need your ESP, but if it's e-commerce you need the integration in place)
One more thing, if you've seen some great autoresponder sequences out there and you want to share them with the rest of us, just shoot me an email. Thank you!