More than a lesson, this is going to serve as inspiration.
The following are examples of campaigns created based of different segmenting techniques. I expect to add more with time, and if you find one worth sharing with the rest of us, send it over and we'll post it here.
They're categorized by segmenting type.
Location
Location is obviously used by businesses with physical limitations. This campaign from Travel Zoo clearly targets Philadelphia.
But location can also be used in other ways, the following campaign is sent to a region that is approaching summer.
This one from Brooks is even more interesting because we see how the campaign is split to promote different product lines according to the weather. Hey, just because it's raining doesn't mean you're not going to promote your offers, right?
Campaign activity
I love this campaign because I've seen very few people use a strategy like this. Programming for Marketeres offers a free course that is delivered in daily lessons via email. At the end, a campaign is automatically sent to the people that completed the lessons with an invite to join a mastermind group.
The segmentation is based on "Sequence completion."
By gender
Retailer Johnny Cupcakes got famous in the world of email marketing after increasing their revenue by 141% as a result of this campaign. There is more analysis involved but the campaign is mostly based on gender segmentation.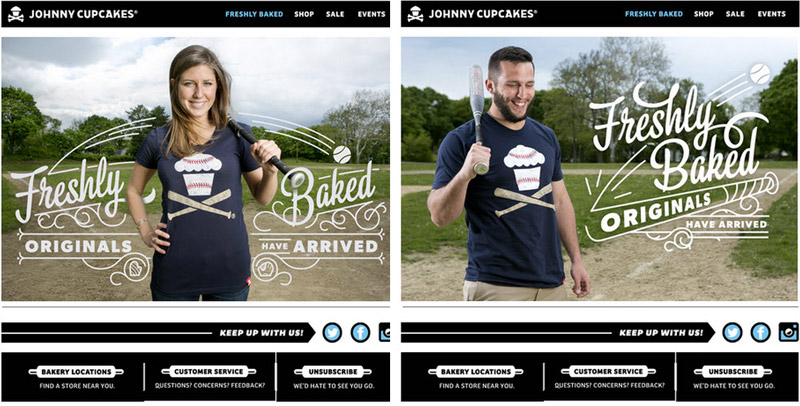 This one from Ice is simply genius. Ice send a Valentine's Day campaign targeted to men. The offer is "Last minute gifts," which is completely aligned with how *some* men behave.
But then, it targets women with a completely different campaign to "Treat Yourself." That's what I call mastering the art of the double dip!
By age group
Also impressive, FitForMe splits the campaign by age group and uses different images to deliver a message that will be appealing to each group.
By birthday
If there is a company that has data available, that will be Facebook, right? They automate a campaign that is triggered on the subscriber's birthday. Now, coming from Facebook is not impressive, but sending something like this to our customers can have a pretty positive impact.
By purchasing history
Harry's uses ecommerce data to send this campaign to people that are already ordering their main product to introduce the new gel and after shave line.
More coming soon…