Earlier in this module, we mentioned 3 categories of data:
Data you're already using
Available data that you need to organize
And data you need to acquire
In this lesson, we'll cover the first 2 under the umbrella of "Available Data." In the following lesson we'll focus on how to get the data you don't have.
Data in your ESP
ESPs already gather, store and organize some data for you. These are some of the most popular:
From the user's IP address:
Country
State
Postal code
DMA code
Area code
By ratio
From signup:
Signup date
Confirmation date
Signup source
From activity:
Opens
Clicks
Automation activity
Unsubscribe
No opens
No clicks
Member Rating
Merge fields:
Name
Last name
Email address
Demographics (not all ESPs):
Age
Gender
Language
Social networks
Influence
Some ESPs automatically include some of this info, for example Aweber doesn't have any demographics. Mailchimp can track the source if it's coming from Facebook or its mobile app, but not independent signup forms as Aweber does.
Data you can integrate
Then you have data you can integrate into your ESP.
From Ecommerce:
Past purchases
Revenue
Transactions
Amount spent over time
Products
Re-orders
Cart abandonment
From CRM:
Organization
Opportunity
Contact
Leads
Activity
From website behavior:
Website visits
Visits to specific pages
Specific events
Clicks
Chances are, you'll find something to help you in whatever you do.
How can I get this stuff?
This data, as we mentioned before, is usually imported as integrations between 2 platforms or a plugin. For example:
WooChimp is a plugin that integrates WooCommerce and Mailchimp.
Or connect BigCommerce to Aweber using MailSync…
You have a few options to find this type of integrations and plugins:
1) ESP integrations
First stop will be your own ESP, go to the website and look for the available integrations.
2) 3rd-party Integration services
3rd-party services can help make your life easier by creating all the connections you need in one place. Some of these integrations services are:
3) Plugins
Just like there are plugins for WordPress, there are plugins created for other platforms. A good example is eCommerce360, a plugin that integrates all kinds of ecommerce platforms to Mailchimp.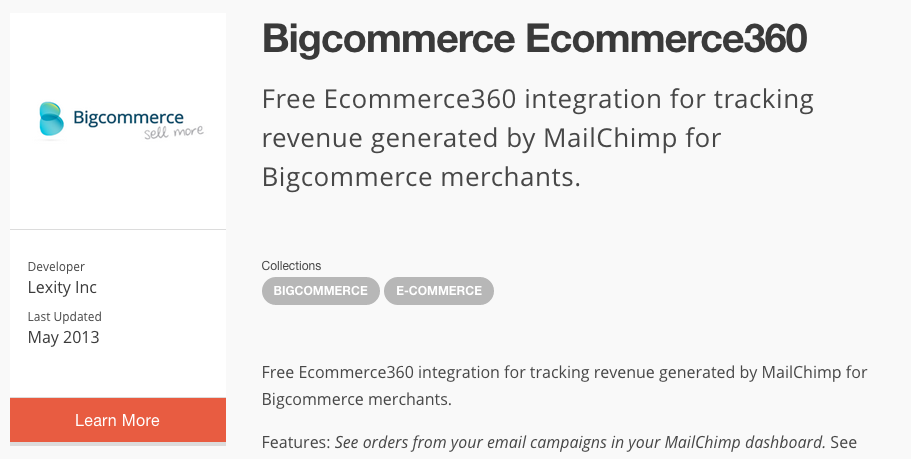 Sometimes, using these type of integrations can be as easy as connecting Wishlist to add members to a list and remove them from the main list, as it has been set up in my courses.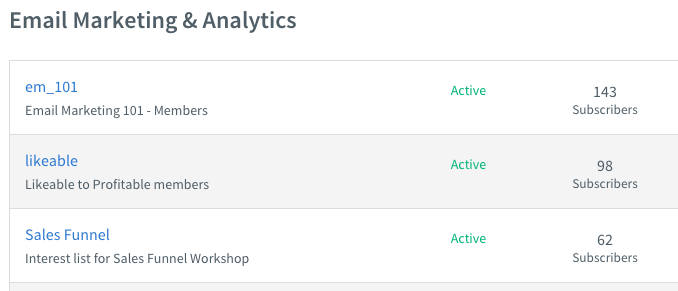 What to do with this data?
Data, in any field, does absolutely nothing if you don't put it to use.
All this stuff that we mentioned in this lesson shouldn't feel overwhelming because you already have a goal for your business. Nobody should jump into looking at tools and data before planning first.
So, to answer this question, you should already know what you're looking for here, how you need it and where.
Homework
If you've been doing your homework, you should already have a plan (remember the 4 steps to get started?)
At this stage then, you need to do this:
You've already determined the data you'll need to get closer to your goal
Now you need to figure out how to get it place, are you going with demographics? Or maybe activity?
What are tools you need? Is this data from your ESP? Or do you need to find a plugin or integration?
Set it up
Create your segment
Confirm that the data is being processed exactly how you want