You picked the interest of your prospect and now she's decided to sign up for your email list. That's a huge step.
But now, this person has to go through the 2-step signup process.
There are a few risks involved
A few people will drop out
But we can optimize this process for better results
And to avoid the Spam folder in future campaigns
Although the goal of the signup process is to complete the subscription and reduce the percentage of incomplete subscriptions, the main focus in this lesson will be the last point. We'll see how the signup process can actually help us prevent ever landing in the Spam folder.
You know, it's easier to stop something from happening in the first place than to repair the damage after it has happened. Once you're in the Spam folder, it'll be a lot harder to get out of there.
Are you ready?
Let's start at the beginning…
The process
Just so we are clear, let's do a quick walk through the 2-step signup process:
User enters email into your signup form
Is redirected to a "Thank you" page with a message to check email to confirm
An email with a confirmation link is automatically triggered
User clicks on the confirmation link
Is redirected to a "Subscription confirmed" page
We'll obviously skip the signup form because we've already covered that on Module 1.
Goals?
To get the subscription confirmed
To avoid the Spam folder in future campaigns
Before you get started…
Before you start optimizing your signup process, check how many unconfirmed subscribers do you have.
See if your ESP provides a report for this. Here is the one from Aweber.
Compare this number with the number of confirmed subscriptions to get a percentage. There is a day with more than 18 incompletes in the chart above, but if you had 173 completes that same day, then it probably makes sense.
1) Signup "Thank You" Page
After the signup form is filled out, the user is redirected to a "Thank you" page. This page is typically used to tell new subscribers to check their email for a confirmation message.
We've all seen this seen before:
That's the generic Thank you page from Mailchimp. All ESPs offer something similar.
But you also have the option to redirect people to a custom page on your website. Here are the advantages of doing this:
You're not going to look like a template
You can have a more personal
You can focus on the goal
The goal?
There is only one goal here: to send that person to find that email.
The risk?
There's always a chance that your email didn't land in the inbox but went to the spam folder instead. Since this is the first time you're sending to this person, that chance is higher than when a person has been getting and opening your emails for a while.
The message
There are 3 parts of this message:
Confirm your subscription
One more step to get your free [blank]
If you don't see the email in your inbox in a few minutes, check the spam folder
Let's look at a couple of examples of custom pages:
On this one, I love how visual it is: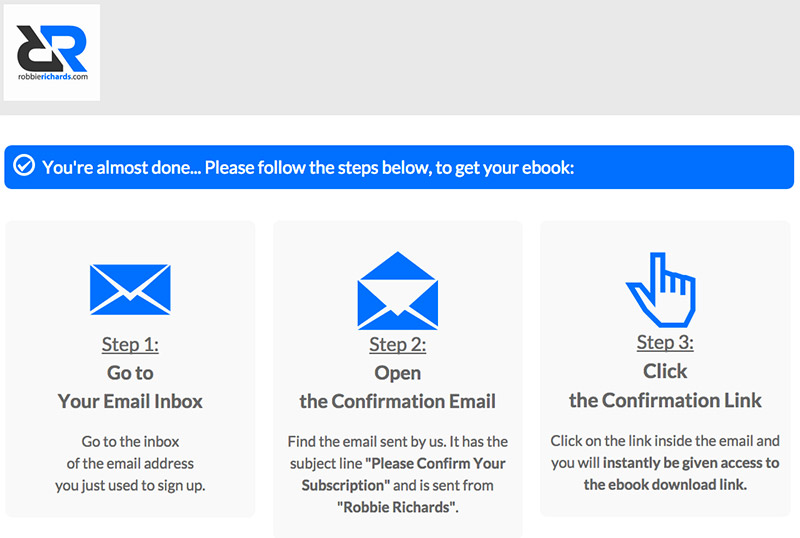 I like the copy on the second example:
And this one is from Social Triggers, I like it too, but the copy feels a little long. Remember, this should be a quick step, communicate the goal and move on.
2) Confirmation email
At the same time, an email is being automatically triggered by your ESP. This is the "Confirmation Email" message.
There is only one possible scenario where this email is not immediately received by the user, it's when the signup is taking place at an event and you're collecting emails to upload them to your list later. Otherwise, this message is sent right away.
The goal?
Get people to click the confirmation link.
The risk?
Again, your email can land on the spam folder. Unfortunately, there's not much you can do at this point, that's why this has to be prevented in step 1.
The message
Simple: Click the link to confirm your subscription so I can send you my free ebook.
Since this is a pretty quick step and your only goal is to get that click, this email should be short and to the point. Here are a couple of examples:
Notice how the first example focuses on the condition of receiving whatever it is Derek is giving away, both in the subject line and in the body.
The only think I'd change is the CTA, I prefer a button than a link. Here is an example from Neil Patel:
3) Success page
The confirmation link is clicked. This sends the user to a success page to confirm that the signup process has been completed.
A generic page that looks like this:
But, you also have the option to replace this generic message with a custom page of your own.
Here is how to replace that default page for your own custom page on both Mailchimp and Aweber.
The goal?
Good thing is the subscription has being confirmed and this person is officially your subscriber. You can relax now!
Now, you still have the opportunity to achieve one more thing that will be very beneficial for the health of your list and its delivery rate: Ask your new subscriber to whitelist you.
This is where the whole concept of prevention happens. If we do it right, you'll have a healthier list and higher delivery rate.
What exactly is Whitelisting?
Whitelisting is industry jargon for "getting your subscribers to add your email address to their contacts."
That's it! Just like when you add one of your friends or clients to your address book. This tells the ISP the user wants to get emails from that address.
The process of whitelisting can be very simple or it can get a little more complicated depending on the email client your subscribers uses.
I created this GIF so you can see how easy this works on Gmail, it's literally one click.
Unfortunately, the process is not always that simple. Some of the email clients make you feel like you're in the 90's. For Yahoo, for example, you have to go to "settings," then "Filters" and click on "Add" to…
Wait a second, you're creating a filter with rules and everything in this thing!
Email clients
Let's start by understanding who's in your list. Some ESPs will report the top email clients used by your subscribers. Here is an example from Mailchimp "List Stats."
But, why should we know this?
Well, for a few reasons:
You get to know a bit more about who your subscribers are and how they receive your campaign
You can optimize for those email clients
You can teach them how to whitelist you (I can assure you most people don't know how to do this on Yahoo mail)
Ask
Since the goal of getting the subscription has been achieved, now we can ask for something else.
Ask them to add you to their contacts.
If you noticed, Mailchimp already does this in the default success page…
But you have to do a better job than that. Besides, this only downloads a "VCF" file and people will not know what to do with it.
Best practices:
Besides just asking, give them instructions on how to do it (Use the top email client from your ESP report)
Use a visual element, like the GIF I shared above, or a quick tutorial with screenshots
Send them to this article from Aweber so they can find instructions for other email clients (there is another one from Campaign Monitor here)
Gmail tabs
Another thing that will help is to ask your subscribers to drag your email to the "Primary" tab, or mark your email as "Important."
Sell it
But the most important thing is this: Tell them why.
Most people don't simply act on command. A simple line like "Add us to your contacts" won't cut it.
One of the most effective ways to make people take action is to give them a reason why.
"In the following days, you'll receive a series of emails with my best tips on [blank], make sure to add my email address to your contacts, I don't want you to miss anything!"
In other words, you need to sell it.
4) Welcome email
We're not going to cover the "welcome email" here because I have an entire lesson about it ahead in the course.
Homework
You have work to do!
Let's go step by step:
The first thing to do is look at your current number of unconfirmed subscriptions
Now, look at your signup process to identify the steps that need improvement.
Get a piece of paper or a Word doc to design each step of your new process (What are going to say, where, and where to use visual elements)
Remember that each step has a clear goal, don't do anything that might put that goal in risk to be ignored because you gave them something else to do
Always focus on the completion of the signup
And finally, design the success page. How are you going to ask your subscribers to whitelist you?
See you on the next lesson. 😉