I call "aggressive acquisition" to those forms that don't sit pretty waiting for the visitor to take action but jump out of the screen to get you.
They tend to convert at higher rates for that reason.
BUT, as uncle Ben used to say… "with great power comes great responsibility"
You have to be careful about how they behave in front of visitors
You can't let them come out and play all at the same time
Because they will frustrate people.
In this lesson, I will give you some options of aggressive forms, just don't go out to get them all, yet.
Ready? Let's do this!
1) Popup Forms
When we started producing this lesson, I realized that there was too much to say in regards to popups, this is why we extracted that part and gave it its own lesson.
The following lesson is all about popup forms and how to set them up to be effective.
Let's talk about the rest of the aggressive forms…
2) Homepage
The homepage?
Yes. Let me ask you something: Do you know which is the most visited page on your site or blog?
Even if most of your traffic comes in through blog posts share on social media, chances are the homepage is the hottest page on the site.
Care to double check? Go to Google Analytics > Behavior > Site Content > All Pages.
Here is mine…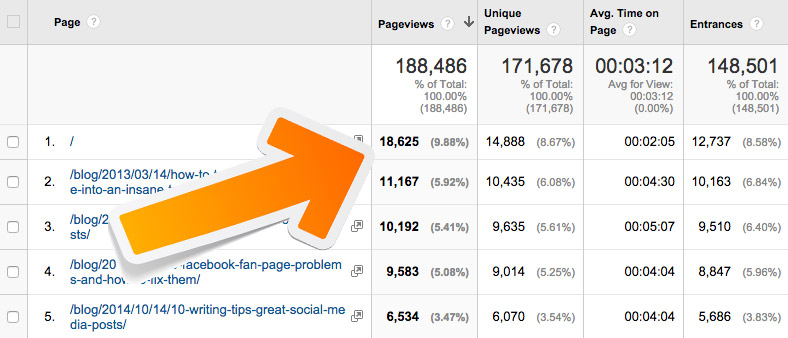 So, if the most important page on your site is the homepage, you should work on optimizing that page for conversions.
Let's take a look at a couple of examples:
3) Featured Box
I used the featured box for a while on my own blog and it was so successful, it was actually mentioned on several places, like on the GetResponse blog here.
This is the chart I published at the time to show my results:
I stopped using for 2 reasons:
I moved away from the Thesis framework, which made it very easy to implement it
I started testing Pop ups and got even better results
Some things to consider when planning to use this option:
Pros
It is less intrusive than a popup
It is still a great attention grabber
It is positioned on the best spot on your site, always above the fold
Cons
Some people think that asking for a subscription as soon as visitors arrive to your site is a little pushy (consider that the popup can be delayed before it's triggered)
It takes too much real estate
Let's take a look at some examples of featured boxes:
The first one is from Marie Forleo:
And this one is from Christian Karasiewicz:
But the Featured Box has one problem: It's not easy to set up.
Frameworks like Thesis or Genesis have made it easy for you access areas of your site, and even then you'll need some basic skills to come up with something decent.
At the same time, there are very few themes out there that already include this option in their layout. The following image shows the theme GeneratePro from StudioPress but, as you can see, it's not much…
If you look for plugins, you'll see that there aren't any.
There is one plugin for WordPress…
The only known plugin out there is Plugmatter. Even super powerful plugins like Bloom don't offer this.
Is it worth trying? I'll give you 2 answers:
Featured boxes work
I'd be careful about how this will affect the layout and design of your site
4) Scrolling Box
I like scrolling boxes for a few reasons:
They are not as intrusive as popups
They don't go cover your content whey they're triggered
But they still get enough attention to be noticed
Scrolling boxes are also good in combination with other aggressive forms like the featured box, since it stays at the top as your visitor scrolls down.
Let's look at some options:
5) Top Bar
There are 2 kinds of top bars:
the one that display the signup form right in the bar
and the one that simply links to another location
In this lesson, I'll show you how to get both the SumoMe Smartbar and The Hello Bar running on your site.
SumoMe Smartbar
Hello Bar
The Hello Bar can be used on any kind of website or platform because it doesn't rely on a plugin but on a piece of code you install in your HTML.
This is not really a signup form but a link to redirect traffic to another page inside or outside you website. In this case, that will be a landing page for email conversion.
One thing you should know is that, while they offer a free version, the cost will go up depending on the number of clicks on the bar, 100 clicks is only $4.95/month but 7,500 clicks is $49.95/month.
Here is the link I mentioned in the video, this article includes instructions on how to install the bar on Tumblr, Squarespace, Blogger, Weebly, Drupal and many more: Deploy Your Hello Bar Anywhere!
Which one?
When it comes to bars, you have to make the decision of:
Trying to convert right on the bar, where your entire pitch is a short phrase
Or going with a 2-step process of having people click through the landing page, where you're not limited by a phrase
Are there other options?
Of course, here are some of them:
6) Content Upgrades
Content upgrades is one of the latest trends in lead generation, and the reason it got so popular is very simple:
They can get much higher conversion rates than the other forms.
And this is where my little nephew Nicolas will kindly say: "why?"
I would reply with: "because of relevancy"
And he will come back with… okay, you get the point.
Content upgrades are super effective because
They are relevant to the post the visitor is reading
They offer a free bonus
They give the impression of an insight (this is not for everybody, that's why is not part of the "open" content and you need a key to get it)
As the "producer/publisher" of this content, you need to consider that:
You're producing something specific for this blog post
But it doesn't need to be a whole ebook or course
A content upgrade could be a:
Video tutorial
Expert interview
Worksheet
Swipe file
Photoshop file
Let's take a look at how to set up a content upgrade, the best tool to do that is LeadBoxes (from LeadPages).
Other services offering similar features:
Buttons replacing forms
All this time, we've been talking about forms. But what if this is replaced by a simple button?
Sure, in the previous video we talked about content upgrades, but this could be used anywhere in your site.
What are the advantages?
You don't have to deal with the code provided by your email service, which sometimes doesn't behave as expected
You don't have to deal with CSS styles to make your form look according to your branding
You don't have to rely on a plugin
This is not just for WordPress, it can used on any platform or even a conventional site
Homework
I think we can all agree that there are some very powerful ideas here, but like I said at the beginning, this needs a little more planning and a good implementation in order to work. Remember…
They can be more effective than other form, which means you can grow your list faster
But they can't all come out and play at the same time
So here is game plan:
Line up the possibilities to see which ones you want to try
Plan a good combination, for example, a popup and a scroll box together are probably not a good idea, but maybe a featured box and scroll box can play nice together
Also plan a good strategy for lead generation in general, for example, you can plan to produce some resources to give away with content upgrades, in that case, strip down all the other CTAs in those posts, then run a popup on the homepage with your big freebie
Don't think of the tools, think strategy first, then you can see which tools make more sense
Take the first step into implementation, get your first aggressive form in place
Determine how you are going to track its performance
Once you feel comfortable with one aggressive form, do the first test with your full strategy running
Ah… I wish I was there to see your face deploying all this into the wild!
One more thing before I let you go…
I'm aware that I just dumped a huge load of information, tools and all kinds of mumbo jumbo, but it is very important that you don't loose sight of the main goal here:
Plan to be highly targeted. The combination of content with relevant CTAs are going to make a huge difference in your conversion rate.
Ask all the questions you need in the comments below.